Notice • Sunday, December 31, 2017
Happy New Year! Nashua City Station is undergoing a makeover. We'll be back to normal soon!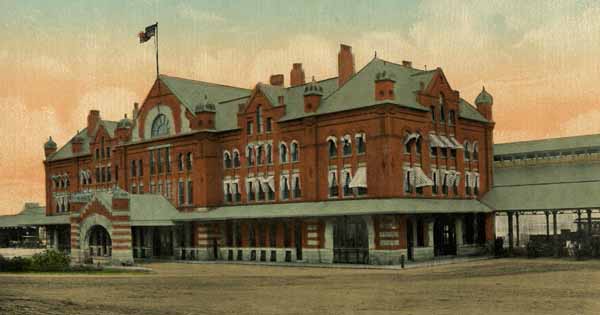 The grand brick building was actually the city's fourth station. Built in 1885 and designed by the legendary Bradford L. Gilbert, who also designed Grand Central Station (predecessor to today's Grand Central Terminal) in New York City. Concord was a busy stop on the railroad, as during 1906 the Boston & Maine Railroad had 32 passenger trains in and out of the station. Inside the railroad had a Concord Coach on display in the waiting room. The stagecoach is now owned by the New Hampshire Historical Society.
The grand terminal was torn down in 1959, making way for a shopping plaza and a smaller passenger station was built a year later of the standard "McGinnis Era" design. Similar stations were also in Manchester, Dover, and Lowell. After passenger service was discontinued to Concord in 1967, the station was converted to a bus station and cab stop.
Explore More Railroad Stations