Notice • Sunday, December 31, 2017
Happy New Year! Nashua City Station is undergoing a makeover. We'll be back to normal soon!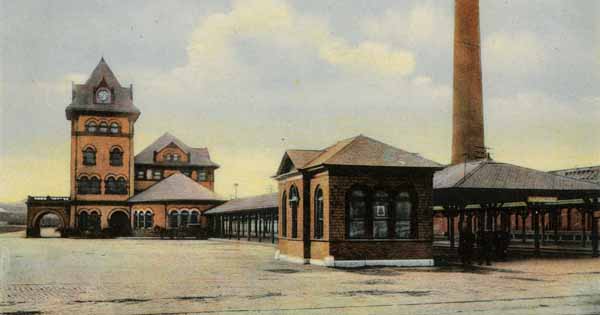 Manchester's original passenger station was built in 1855 and was located on the north side of Granite Street. At that time, Depot Street was located where the Center of New Hampshire now stands. The Boston & Maine Railroad took to constructing a new Union Station in Manchester, which opened in March of 1898 on the south side of Granite Street. The Manchester Street Railway later had a waiting room built at the end of one of the platforms in 1908. The two stations stood side by side for a short time before the old station was demolished, making way for the Amoskeag Manufacturing Company's company playground.
Sadly, Manchester's Union Station was torn down in the fall of 1962. Like Concord and other cities across the Boston & Maine system, Manchester's replacement depot was in the form of the utilitarian "McGinnis era" station.
Explore More Railroad Stations