Notice • Sunday, December 31, 2017
Happy New Year! Nashua City Station is undergoing a makeover. We'll be back to normal soon!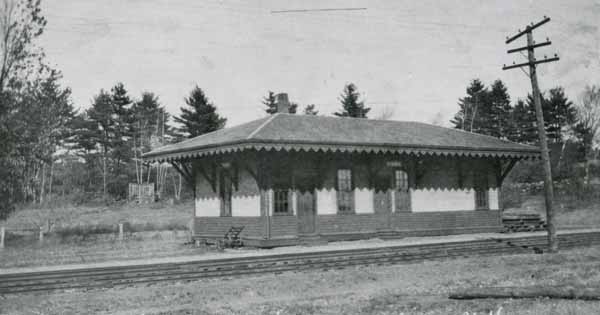 The station was located at Greeley Street behind the Grange Hall. The Nashua & Rochester Railroad opened through Hudson in 1874. After the first decade of the 1900s passed, business on the line decreased. The station was closed in 1920 or 1922, with passenger service ceasing on March 3, 1934, which had traditionally been provided by a single gas-electric motorcar. Passengers boarding at Hudson would have purchased their tickets from the conductor after the station closed. Freight service had ceased on this portion of the line earlier in 1932. The line east of Hudson to Fremont was abandoned by the Boston & Maine Railroad in 1935, leaving Hudson as a branch out of Nashua. Without any major online customers, Hudson remained an important station stop because of Benson's Wild Animal Farm. The Jungle Train would bring passengers from Boston's North Station to Hudson on Sundays during the summer.
The rail line to Hudson remained until 1941 when it too was abandoned. The railroad right of way between Hudson and Anderson was ultimately used for the construction of N.H. Route 111. The Hudson railroad station still exists owned by the town and relocated at Benson Park (former property of Benson's Wild Animal Farm). At some point the town plans on moving the station within the property and to set it on a permanent foundation (since moving to the Benson's property, it has never been permanently set).
Crouch, H. Bentley. "The "Phantom" Division" B&M Bulletin, Summer 1979.
Goldsack, Bob. "Benson Expands the Farm." In Benson's Wild Animal Farm. Charleston, SC. Arcadia Publishing, 2011. 23-40.
Explore More Railroad Stations