Notice • Sunday, December 31, 2017
Happy New Year! Nashua City Station is undergoing a makeover. We'll be back to normal soon!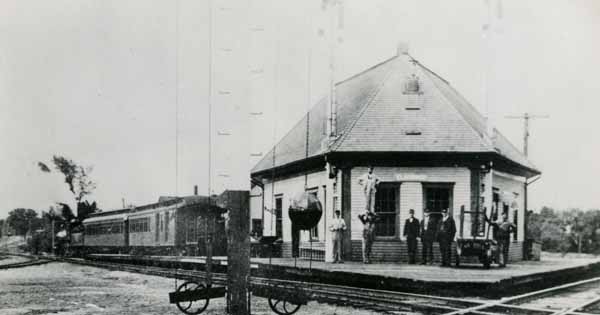 Elmwood was the junction between the Manchester & Keene Railroad and the Peterborough & Hillsborough Railroad. It was originally named Hancock Junction, but because of confusion with Hancock Station, the junction was renamed to Elmwood in 1881, named after the nearby farm. By 1888 both railroads were under the control of the Boston & Maine Railroad, and the station was now the junction of the Keene Branch and the Worcester & Hillsborough Branch.
The crossing diamond of the two railroads was protected by a ball signal, which was a common type of signal at railroad junctions throughout New England. For one rail line, when two balls were raised it was all clear for a train on that line to cross. If only one ball was raised, the crossing was clear for trains on the other line. Elmwood's signals were two raised for Peterborough-Hillsboro trains and one for Nashua-Keene trains.
The hurricane in 1936 caused several washouts between Keene and Elmwood on the Keene Branch and between Peterborough and Elmwood on the Worcester & Hillsborough Branch, and the railroad abandoned those segments shortly thereafter. With the remaining rail service being up in Bennington and Hillsborough, when going between between Greenfield and Bennington all trains had to traverse the switchback through Elmwood. This practice was eventually stopped when the junction was bypassed with Magoon's Curve in 1952. Nothing remains today of this once bustling junction.
Explore More Railroad Stations